Welcome!

We want to build a community based on inclusiveness, where everyone is welcome regardless of age, marital status, sexual orientation, race, ethnicity, Jew-by-choice, or Jew-by-birth. When Temple Beth El was founded in 1947, its members dedicated themselves to the creation of a home for living Judaism – a place where newcomers feel welcome, where Jewish ideals are made real, and where education is the key that unlocks the door to a lifetime of Jewish fulfillment and commitment. We are proud of this tradition and hope that your association with us will be spiritually and emotionally satisfying.
Temple Beth El, CDC and In-Person Meeting
A committee has been formed to determine when and how Temple Beth El will be able to go back to in-person services.  The committee is also looking at a "hybrid" service that will allow a few, fully vaccinated, members to attend in person while maintaining our Zoom and Facebook options.  Even though California has a fairly high vaccination rate, Kern County is still less than 50% vaccinated.  Temple Beth El is, therefore, being very cautious regarding full in-person activities.  Fortunately, we have created one Zoom link that you can use for any event you wish to attend.  You can view a listing of upcoming events on our Calendar page.  If you already know the date and time of the event you wish to attend, you can use the Zoom link here:

 

TBE Zo

om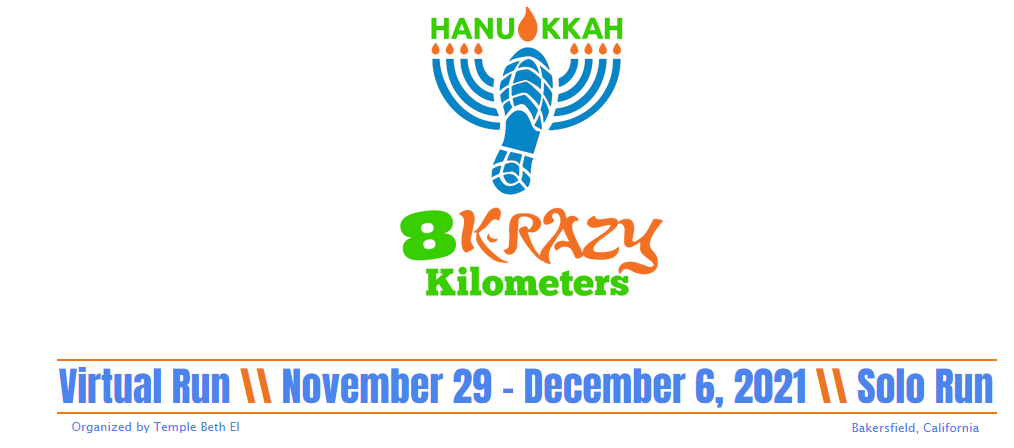 Registration for the Hanukkah 8 Krazy Kilometers and 2K Latke Loop is now open. 
Participants will be able to run an 8k or 2K  at the Panorama Vista Preserve or at a 
location of their choice during any of the 8 days of Hanukkah. All participants will 
receive a custom race bib, finisher medal, event T-shirt, rafffle entry and Hanukkah swag.  
And, back again this year, participants will be able to take part in our holiday costume contest 
and a nightly Hanukkah cookie drawing! This year we have added a team/group category. 
Even more ways to celebrate Hanukkah with your friends or family.
For more information view our website: https://www.8krazykilometers.org/  
The Shofar is Temple Beth El's monthly newsletter.  Rabbi Klein and our president each write a column and the calendar will keep you up to date about coming events.  Here is a link to the current edition as well as links to previous issues.
We welcome everyone to attend our weekly Friday evening Shabbat services and can't wait until we can we can all be together in person.  In the meantime, please join us each Friday evening at 7:00 at our Sha-Zoom services.  You can join with this Zoom link:  TBE Servicce
Temple Beth El offers K-12 religious school at no charge for members.  School will begin again in September.  We also have regular Torah Study each Saturday at 4:00 PM via Zoom.  We are currently studying Pirkei Avot.  You can join at:  Torah Study
Want to fulfill your membership commitment?  Want to honor someone special?  Want to recognize a special or life-cycle event?  You can do that at:  TBE Support.  We accept Visa, Master Card and debit cards.  Or you can use you checking account.  You can even set-up automatic monthly or quarterly payments.
The Shofar, our monthly newsletter, has a calendar of that months upcoming events.  You  can also use our on-line calendar at: TBE Events.  On this calendar, you can click on any event and have it saved to your Google or iCalendar.  That way you never miss anything that might be of interest to you.
Temple Beth El has been the voice of Reform Judaism in the Bakersfield area since 1947.  If you are looking for a Jewish experience, please consider joining Temple Beth El.  You can email Rabbi Klein or Heber Cruz Berber, our membership chair, for answers to any questions you may have.  You can get a head=start by filling our our on-line membership application.

Annual High Holy Days Food Drive
Each year during the High Holy Days, Temple Beth El collects non-perishable food and personal hygiene items to be donated to the Bakersfield College Renegade Pantry.  Even with no on-person services this year, we were able to collect and deliver substantial quantities.  The picture to the left is just a sample of what was collected.  If you did not make any donations, it is never too late!  Contact the temple office to make arrangements for pick and delivery of any items you wish to donate.
Although we fully intended to start the new school year with in-person classes, the Temple Beth El board and the Religious school committee have decided that with the increase numbers of people getting COVID infections, that we will be starting this year with on-line classes.  You can register your students by completing the registration form by following this link:  ReligiousSchool