Welcome!

We want to build a community based on inclusiveness, where everyone is welcome regardless of age, marital status, sexual orientation, race, ethnicity, Jew-by-choice, or Jew-by-birth. When Temple Beth El was founded in 1947, its members dedicated themselves to the creation of a home for living Judaism – a place where newcomers feel welcome, where Jewish ideals are made real, and where education is the key that unlocks the door to a lifetime of Jewish fulfillment and commitment. We are proud of this tradition and hope that your association with us will be spiritually and emotionally satisfying.
Upcoming Latke Brunch!
You have waited long enough!  Announcing Norma's Latke Brunch, December 18, 2022.  You can look for the mail-in form in the October Shofar if you want to send in a check, or you can go to Latke Brunch to fill out your order form and pay with your Visa or MasterCard.  Eat in person or pick up your latkes and take them home to your family, neighbors and friends.  Good Eating!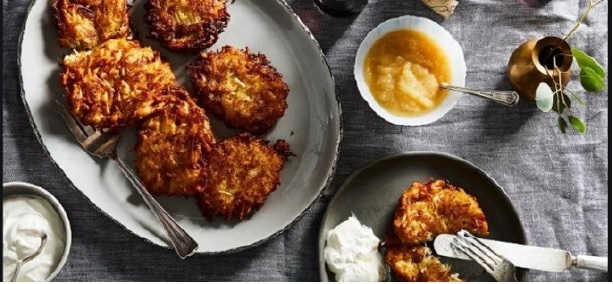 Hanukkah 8 Krazy Kilometers!
Have "a latke" fun at the 2022 Hanukkah 8 Krazy Kilometers!  Proactively work off your Hanukkah Latke Brunch!  This annual holiday run will be held on Sunday, December 11, at Panorama Vista Preserve and includes the 2K Latke Loop Fun Run.  ALL registrants will receive a custom finisher medal, Hanukkah swag, water and refreshments, and entry into the race-day raffle.  PLUS, those who register by November 27 will be guaranteed an event T-shirt. 
Come join the fun which will include music, vendors, awards for top finishers of the 8K, and prizes for costume contest winners, the largest team, and legacy runners.  Go to www.8krazykilometers.org to learn more about the run and to register.  Sponsorship opportunities are available!