Meet our Rabbi: Rabbi Jonathan Klein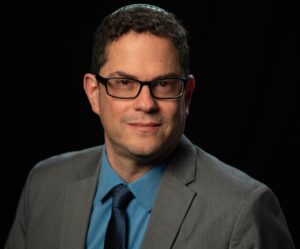 (photo credit: Eliyahu Ungar-Sargon)
tberabbiklein@gmail.com (424) 248-5775 (text only)
Rabbi Jonathan Klein serves as the 8th rabbi of Temple Beth El in Bakersfield, where he leads both prayers and song with guitar at weekly Shabbat services, offers ongoing Jewish learning opportunities, and supports the spiritual journeys of the people of Bakersfield and beyond. He is a regular instructor for the Levan Institute for Lifelong Learning of Bakersfield College, and also leads monthly Saturday Morning worship for Congregation B'nai Jacob, in the tradition of Conservative Judaism.  He welcomes you and encourages you to reach out to him!
Rabbi Klein received his Bachelor of Arts in History at UCLA before enrolling at Hebrew Union College – Jewish Institute of Religion, where he served congregations in Flagstaff, AZ and Rye, NY prior to his ordination in 1997.  He served three years as Director of URJ's KESHER: Reform College Outreach for the Union of American Hebrew Congregations (1997-2000), followed by eight years as the Allen and Ruth Ziegler Director of USC Hillel (2000-2008).  Rabbi Klein served as Executive Director of Beth Chayim Chadashim, the oldest predominantly LGBTQ synagogue in the world (2018-2020).  Currently, in addition to Temple Beth El, Rabbi Klein provides spiritual/religious support to Congregation B'nai Jacob, a Conservative Jewish congregation soon to be hosted by Temple Beth El. Rabbi Klein has also actively engaged as a member of the Shtibl Minyan, a non-denominational traditional egalitarian community in the Pico-Robertson neighborhood of Los Angeles. Rabbi Klein is a frequent officiant for lifecycle events, from baby naming ceremonies to weddings, funerals, and unveilings. In 2022, after 25 years of service to the Jewish people, Rabbi Klein received an honorary Doctor of Divinity from HUC-JIR.  His personal website can be found here.
Reflecting upon his experiences of bussing, his family's financial struggle, and his brother's life with Down's Syndrome, Rabbi Klein shifted his professional attention to Economic Justice, serving as a fundraiser for Progressive Jewish Alliance (renamed Bend the Arc). He served as the Executive Director of Clergy and Laity United for Economic Justice (2009-2018), where he built the premiere clergy-based social justice advocacy organization in Southern California, doubling its size and capacity and nearly tripling its budget and staff size. Rabbi Klein is committed to social justice as a defender/promoter of those in the margins; his lifelong commitment to justice has included acts of civil disobedience: Supporting demilitarization of El Salvador in 1989; opposing NYPD police brutality in 1999; and supporting immigration reform in 2010, Walmart workers in 2015, Black security officers in 2017, port truck drivers/TPS recipients in 2018, and immigrants also in 2018. Rabbi Klein continued his justice work by co-founding and serving as the first Executive Director of HOPE For All: Helping Others Prosper Economically (2019-2022). Rabbi Klein has served on the boards of the ACLU of Southern California, Interfaith Communities United for Justice and Peace, the Labor 411 Foundation, and the now-defunct Interfaith Worker Justice, a Chicago-based faith and labor network. Rabbi Klein was also an elected delegate to the California Democratic Party (2017-2019) and was named by Los Angeles Mayor Eric Garcetti (2017-2019) as a Commissioner on the City's Commission on Revenue Generation. He currently serves as Treasurer for the national organization, Interreligious Network for Worker Solidarity.
In 2013, Rabbi Klein founded Faith Action for Animals, which organizes faith leaders to actively protect animals and promotes plant-based consumption over animal agriculture. His advocacy has helped lead to a ban on fur in West Hollywood, a ban on use of a bull hook on animals in circuses in Los Angeles and Oakland, and a pilot program for vegan options in the LA Unified School District. Rabbi Klein has led West Coast efforts to curb the practice of Kapparot, a rite for expiation of sin through the slaughter of chickens. He is also currently as the Rabbinic Chair of Jewish Veg Los Angeles. He also serves currently as a Founder/Executive Director of HOPE for All: Helping Others Prosper Economically. In 2022, Rabbi Klein transformed Faith Action for Animals into Faith Action for All:  All Peoples, All Animals, Our Whole Planet, engaging in public policy advocacy with clergy throughout California.
Rabbi Klein is a regular contributor to the Bakersfield Californian:
A song leader, music enthusiast, and lover of Jewish mysticism, Rabbi Klein is the proud parent of his 23-year-old son and grad student in Mathematics, Rachmiel (Rocky), 20-year-old daughter and recording artist Kinneret, and fifteen-year-old high school student Zimra. He's kvelling with nachas continually!
| | |
| --- | --- |
| History of Temple Beth El's Rabbis | Years of Service |
| Founding Rabbi Sanford E. Rosen  | 1947-1951 |
| Rabbi Abraham Haselkorn | 1951-1953 |
| Rabbi Milton Shulman | 1953-1959 |
| Rabbi Arthur J. Kolatch | 1959-1972 |
| Rabbi Stanley I. Robin | 1972-1979 |
| Rabbi Steve Peskin | 1979-1992 |
| Rabbi Cheryl Rosenstein | 1992-2019 |