The Shofar, Temple Beth El's monthly publication, keeps community and temple members up to date on what's going on. Take a look at this month's Shofar to see what's coming up or browse through the archives to see all that we've done!
---
The Rabbi's Ruminations (from the November Shofar)
Reprinted from the October 22, 2022 Community Voice, The Bakersfield Californian
     The Kern River's fast-moving water and mountain vistas are a summer destination for many of us in the Bakersfield area. Hikes along surrounding ridgelines and canyon walls reveal a meandering river running over 160 miles before emptying into now dry lakebeds. Kern's turbulent whitewater is as dangerous as it is inviting, drawing enthusiastic kayakers and rafters with paddles in hand.
     When I stand before a wondrous river like the Kern or observe ancient trees in Sequoia National Forest or the Banias in Northern Israel, I feel God's presence. The Hebrew Bible tells us this is no accident: "The earth is the Eternal's and its fullness thereof; the world and its dwellers" (Psalms 24:1). Commenting on Genesis 2:15, the Sages teach that "The Holy One of Blessing led Adam through the Garden of Eden and said, 'I created all my beautiful and glorious works for your sake. Take heed not to corrupt and destroy My world. For if you corrupt it, there is no one to make it right after you'" (Ecclesiastes Rabba 7:19). In our covenantal relationship with what Jews and Christians consider our Creator, we are obliged to be good stewards of the environment, and simply caring for the environment is an act of faith.
     Ten generations after Adam and Eve, humanity failed the commandment "to till and to tend" the Earth responsibly. In response, God unleashed a great flood; Noah, whose story we read in synagogues worldwide this week, was entrusted with reestablishing life on Earth. However, this was only a short-term solution. Noah's great-grandson, a warrior named Nimrod, leads the people into war with God. Through Nimrod's arrogance and pursuit of power, he disregarded human life and built the Tower of Babel.
     The divergent paths of Noah and Nimrod remind us how easily arrogance and selfish pursuits lead us to disregard our universal covenantal relationship with God to be proper custodians of our Earth and begs the question: Will we act conscientiously toward nature? Or will we disregard nature for selfish purposes? The answer depends on the choices we make each day.
     I'm always looking for practical ways to put my beliefs into action. That's why in addition to serving the Jewish community of Bakersfield, I created an organization called Faith Action for All. Today, the organization has evolved into a nonprofit comprised of several faith groups and businesses dedicated to helping meet the needs of over 300,000 individuals in underserved communities here in Kern County and beyond.
     It's also why I earlier this year became an enthusiastic supporter of a new statewide program called Power Saver Rewards, which gives money back to folks who reduce energy use during a Flex Alert. Flex Alerts generally occur from 4 to 9 p.m. when there's not enough energy supply to match demand. Reducing energy use during a Flex Alert helps prevent power outages. Power outages disproportionately impact the elderly and babies, people with disabilities, and those who rely on medical devices that use electricity. Since energy prices for PG&E and SCE are always higher from 4 to 9 p.m., when you reduce energy use during a Flex Alert, you're benefiting twice over as you encourage a healthy relationship with our Earth's natural resources, an important matter for all religious people.
     We went through 10 back-to-back days of Flex Alerts in September during the historic heatwave. Thanks to everyone who saved energy, we were able to avoid preventable power outages. If you are already registered for Power Saver Rewards, you should be getting money back depending on how much you reduced your energy consumption. If you're unsure if you're registered, visit PowerSaverRewards.org to register today.
     Participating in Power Saver Rewards is one way you can help the environment and benefit personally in the form of savings. But more importantly, make environmentally positive decisions each day, and when you're faced with the choice of following the path of Nimrod or Noah — or recognize the covenant established with Adam to protect our planet — it won't be much of a choice at all.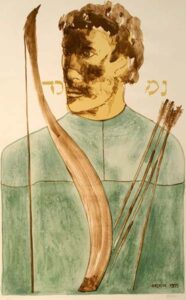 Nimrod, by Leonard Baskin,
lithograph, 1975
Rabbi Jonathan Klein
SHOFAR ARCHIVES