For 70 years, Temple Beth El has been Bakersfield's Reform synagogue. The following timeline highlighting TBE's early years was compiled from information in "We Brought Sinai to San Joaquin" by Shirley Ann Newman.

March 1947 – Thirty-five families gathered at the old American Legion Hall on 17th Street to meet about initiating Temple Beth El.
April 1947 – The first temple officers were elected. The event took place at the Woman's Club on 18th and D Streets.
May 16, 1947 – At the First Congregational Church on 18th and G Streets, in the presence of visiting Rabbis Alfred Wolf, Leonard Greenberg, Joseph Jason, and Morton Bauman, our very first Sabbath service took place.
August 1947 – The congregation was formally chartered as a non-profit religious corporation.
September 7, 1947 – Installation of our first Rabbi, Sanford E. Rosen, occurred in El Tejon Hotel.
October 5, 1947 – Thirty-six boys and girls were consecrated to the new religious school.
1948 – Women of Temple Beth El (WOTBE) is first organized.
June 10, 1951 – The new sanctuary was consecrated, coinciding with the observance of Shavuot.
"Rabbi Wolf referred to the cornerstone – as it was laid – as not merely a material object but rather as a spiritual being, one that embodies the good wishes of the faithful throughout America. Rabbi Rosen said: "a work that is truly dedicated to God will last forever." Dr. Sophie Goldman Rudnick turned the first spadeful of earth and the gesture was so vigorously followed by other members, including children, that it was jovially reported they had dug almost enough ground to eliminate the need for a steam shovel!"
March 30, 1952 – Temple Beth El was dedicated.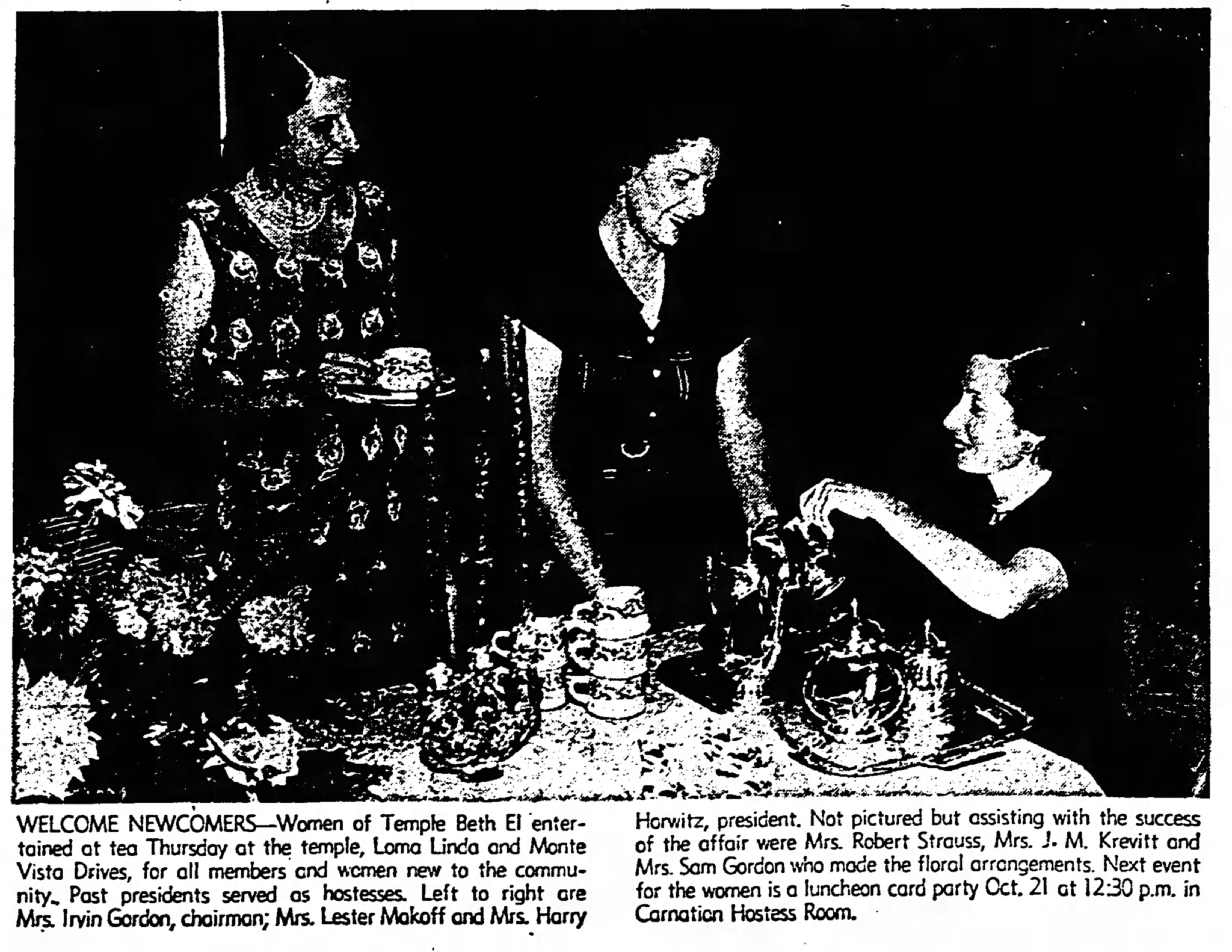 (Left: Bakersfield Californian, April 24, 1947; Right: Bakersfield Californian, October 4, 1952)